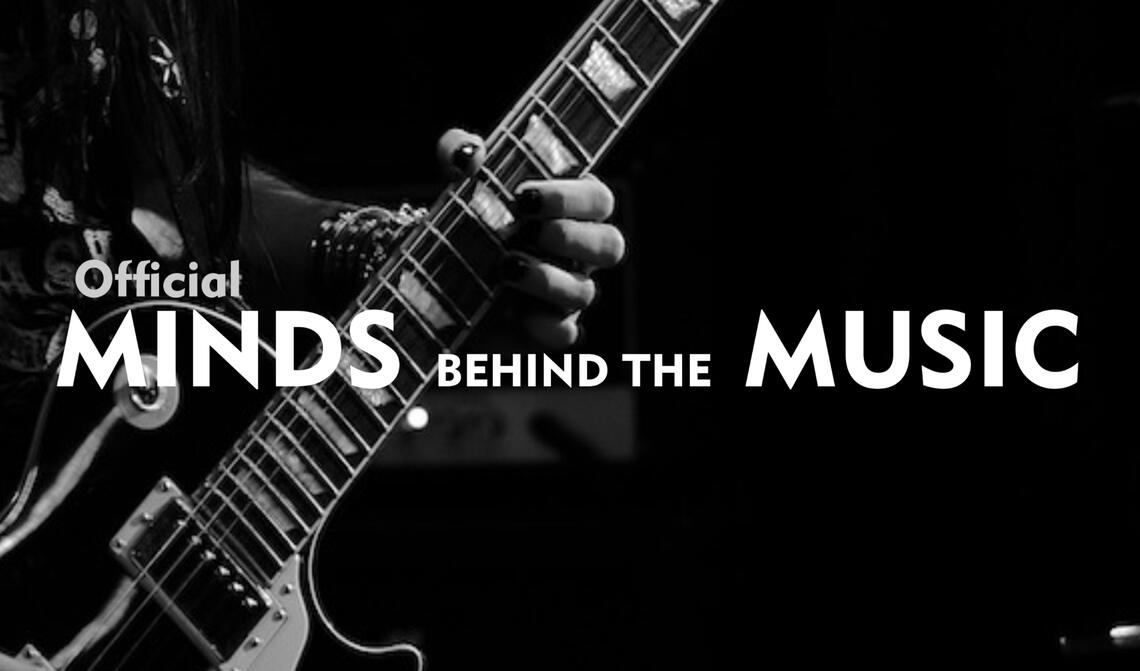 ---
Music Stars Unite to Save the Planet
---

---
Members, past and present of some of the worlds biggest bands including:-
Status Quo - Genesis - Jethro Tull - Deep Purple - Bad Company - The Damned - INXS - Steppenwolf - Iron Maiden - The Who - Player - Herman's Hermits - Thin Lizzy - Uriah Heep - Ron Sexsmith - Mungo Jerry - Supertramp - Black Sabbath - Fairport Convention - Ambrosia - Toto - Little River Band - Steeleye Span - Blue Oyster Cult - New York Dolls - Krokus - Christie - The Tremeloes - The Byrds - Clannad - U2 - The Waterboys - The Turtles - Canned Heat - Mental As Anything - Skid Row - Damn Yankees - The Dandy Warhols - Manfred Mann - Suzi Quatro - Marty Wilde - Bobby Rydell - Mothers of Invention - The Hooters - WHAM - Great White - Free - Small Faces - The Troggs - The Dakotas - Quiet Riot - Rough Cut - Arrival - Argent - Blood, Sweat and Tears - Men Without Hats - Keel - Candlebox - EMF - Marmalade - The Youngbloods - and many many more….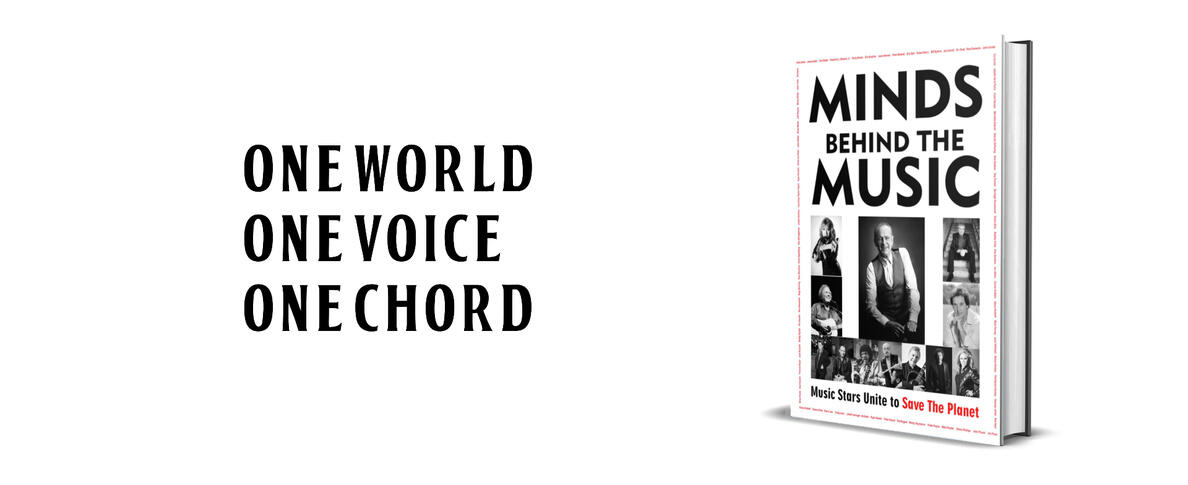 MUSIC STARS UNITE TO SAVE THE PLANET
What does Francis Rossi of Status Quo think about global warming? Does Ian Gillan of Deep Purple think we're doing a good job of caring for the planet?
These questions and more are tackled by going to the source and asking them. Suzi Quatro, Don McLean, Kenney Jones, Marcella Detroit, Ian Anderson, Simon Kirke and many more.
Over eighty music stars, past and present, are quizzed on their opinions about religion, aliens, politics and of course, the issues of climate change.
Why? To raise awareness about the plight the planet is in.
Nothing speaks to humans more than music and the influence these legends of rock and pop have is immense.
Funny, thought provoking and eye opening, Minds Behind the Music is a book unlike any other. So settle down with a nice environmentally friendly cup of tea and enjoy whilst listening to the fundraising album of the same name featuring indies and stars like Mungo Jerry and Simon Kirke of Bad Company. An album of unique and special songs recorded especially for Minds Behind the Music.
PRESS
All Press enquiries please contact: [email protected]
SOCIAL MEDIA
Follow on Instagram @officialmbtm
Follow on Twitter @officialmbtm
BLOG
Visit https://mindsbehindthemusic.blogspot.com
Click on the Book image below with Suzi Quatro to ORDER!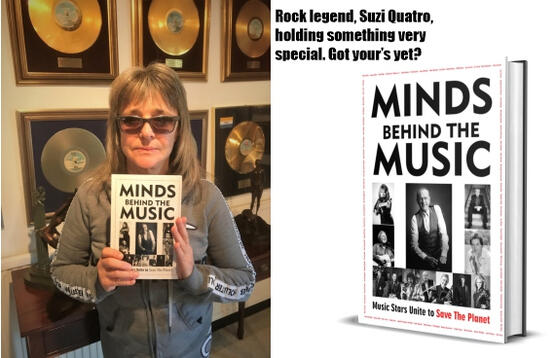 HOW CAN YOU HELP?
You can follow us on Instagram and share! @officialmbtm
You can subscribe to our youtube channel. Click on the youtube logo below!
BORN FREE FOUNDATION
Born Free held an auction of special signed albums, books, dvd's and more by the stars and all sales went to the Born Free Foundation (Charity number 170906.)
We also be released a fundraising compilation album featuring both music stars and indies. This album has been worked on for months by all those involved and trust me, it is amazing! The revenue from this will also be going to the Born Free Foundation.
The Born Free Foundation is an animal charity that's passionate about wild animal welfare and Compassionate Conservation. Founded by Virginia McKenna OBE, Will Travers OBE and Bill Travers MBE in 1984, they work tirelessly to stop the exploitation and suffering of individual animals living in captivity or in the wild.
Click on the YOUTUBE image below to visit our channel
---
THE ALBUM
OUT NOW in 167 countries and over 600 outlets, the Minds Behind the Music Album. Click on the album cover below to order! Spotify, amazon, Apple, everywhere!
Album Art was kindly done by Reg Mombassa of the band, Mental As Anything.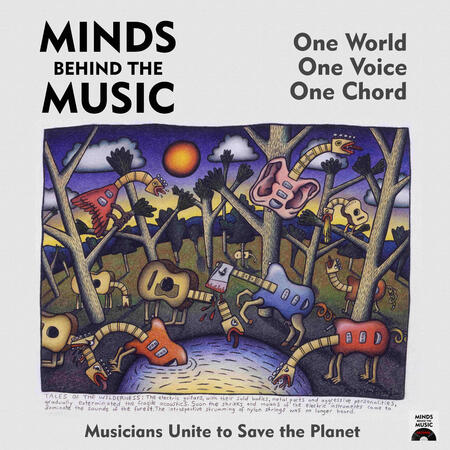 Musicians On The Album
This album came about by pure accident. Like-minded musicians coming together to create an album that had meaning. It is not just about the planet, it is about being human.

Buying or streaming this album will help to fund wild animals being placed back into the wild where they belong. It will help the Born Free Foundation carry on it's important conservation work. It's not going to save the planet in one go. But you can't put all the stranded crabs back into the ocean at once. But it does matter to the one you do. Make a difference!

Please also go to our youtube site and watch and share the videos! The ad-revenue from people watching them goes to The Born Free Foundation! Just by watching and sharing you are helping!

Thanks so much for taking the time to visit! Now go hit them hard!

Mungo Jerry
Well, to be honest, Mungo Jerry is a music legend. Who hasn't heard In The Summertime! Find out more at his website! www.mungojerry.com

Simon Kirke (Bad Company)
The legendary drummer and member of Bad Company and Free, so It's Alright Now!
Find him here www.officialsimonkirke.com

Coen Rhys
Coen Rhys is a positive over-thinker and experimental singer-songwriter drawing inspiration from music through the ages, balancing reality with hope for a better future.
He first started writing music after picking up the guitar at the age of 11, and has since written music to "diarise" his thoughts while trying to work out this wonderful yet mad world.
Facebook: www.facebook.com/coenrhysmusic
Twitter: www.twitter.com/coenrhys
Instagram: www.instagram.com/coen.rhys/
Apple Music: www.music.apple.com/gb/artist/coen-rhys/1520099282

Fendahlene
Fendahlene are Paul Whiteley (guitar, lead vocal) and Ashley Hurst (bass, backing vocal). Their influences are broad, ranging from 60s rock and soul through punk and garage to modern indie. After ten years as regulars on the Sydney live music scene, they moved to the UK, and after a lengthy hiatus, released the single Burnt Out in June 2020. Their latest  album High and Low and Back Again was recorded at Urchin Studios in London and was released in 2020.
Website: www.fendahlene.com

Hardland
Hardland makes modern day rock music and mixes it, in their own unique way, with the amazing characteristics of the 70's and 80's. Yes, we're talking about long hair, even longer guitar solos that sound as if they're coming from a wall of Marshall amplifiers, extensive keyboard parts and catchy lyrics that you'll gladly sing along with.
Visit www.hardland.net

Joe Matera
Australian singer/songwriter/instrumentalist and guitarist Joe Matera is a melodious troubadour, having amassed quite an impressive track record in his career. This includes playing guitar for famed British music legend Steve Harley (Cockney Rebel fame) to performing on the festival stages in Europe to scoring a Top 20 hit on Radio Berlin in Germany. His songs and music speak with authority and emotion straight from the heart.
Official Website:  www.joematera.com

mAncient
Haakon Rian mAncient Ueland is an artist, DJ, healer, therapist and Viking Buddha. Since 2018 he has been a pilgrim monk. His music genre is called 'Earth House', which is also the name of his charity. His music can be found on all the major services - search for "mAncient" -  and is healing. He started with music at the age of four, 51 years ago, and his best friend and bodyguard is called Trollheads Nessi.
Web: www.mancient.one
Producer Dimitriy Naumov

Whitman Rinaldo
Whitman Rinaldo is a songwriter who led several rock and jazz bands over the years in Fairfax VA and Washington DC. He won several awards, including Honorable Mention Mid-Atlantic Songwriting Contest, Songwriters Association of Washington and Broadjam Top Ten with "Struggle", "Los Soldados" and "Lamb Jam." Luke Warm and the Red Hots featured Hot Licks guitar players Michael Fath and Paul Bell, and sax by former Chuck Magione Chris Vidala and Trumpeter Ray Disney.
www.soundcloud.com/whitman-rinaldo

Doctor Zee
Just a stunning band from Sheffield, England, who stepped up and gave us an amazing song for the album, End of the World. A true anthem for the Save the Planet movement.
Find them here www.twitter.com/DoctorZee8

The Star Prairie Project
The Star Prairie Project is the brainchild of Nolen R. Chew Jr., a song writer from Star Prairie, Wisconsin. The purpose of his recording project is to write original songs and make them into records. Nolen collaborates with musicians and producers from LA to London to bring his songs to life. The Star Prairie Project is named for the village of Star Prairie (50) miles NE of Minneapolis/St Paul and the Alan Parsons Project from back in the day.
Find them here www.thestarprairieproject.net

Rockin' Engine
Founded in 2015, Rockin' Engine started their career as an entertaining cover band, showcasing the greatest hard rock and metal hits from the '80s and '90s era. After a few years, the formation decided to write their first album as a personal project, in an attempt to discover themselves musically. To their biggest surprise, their compositions soon became very popular in several radio stations throughout the world.
Find them here https://linktr.ee/rockinengine

Jro and the Master of One
Soundscapist Extraordinaire who has shared a stage with Korn, Deftones, B.O.C, 3rd Eye Blind...
Find him here https://jasonroach1.bandcamp.com

Primaudia Record
Dark Synth Artist and Member of Electronic Music Alliance
Find him here www.Primaudiarecord.bandcamp.com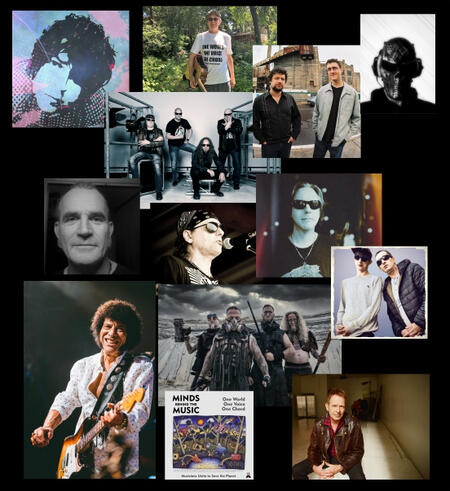 GET THE OFFICIAL MERCH BY CLICKING ON THE PIC.
---